VDL Groep to produce bicycle frames
5 June 2023
VDL Groep, the family-owned industrial company headquartered in Eindhoven, will be manufacturing and supplying aluminium bicycle frames. VDL Bike Frame Technologies is now finalising its fully automated production line. Millions have been invested in this new operation. Production will begin on this production line starting this summer, at sister company VDL Steelweld in Breda. QWIC will be the first customer of VDL Bike Frame Technologies. Over the next three years, VDL will supply 50,000 bicycle frames to this Dutch bicycle brand. Many additional bicycle brands have also expressed interest in 'homegrown' frames.
By bringing bicycle frame production back to Europe, VDL Bike Frame Technologies is facilitating customers in their efforts to significantly reduce their carbon footprint. For the time being, bike brands are mainly reliant on supplies from Asia for their frames. That unsustainable supply chain also involves long delivery times, expensive transport and sizeable inventories. By sourcing components such as forged and cast parts exclusively from Europe, VDL Bike Frames Technologies will be able to keep a 'close eye on the ball'. "A fully automated production process, for which VDL Groep has extensive experience in other applications, will allow us to achieve competitive production in the Netherlands," states VDL Bike Frame Technologies Jason Koevoet. "Our agility and flexibility will also allow us to respond quickly to new projects and other demands from the market."
'Important milestone'
Taco Anema, Founder and CEO QWIC: "Today we are proud to announce a long-term strategic cooperation agreement with VDL Groep for the automated production of QWIC e-bike frames in the Netherlands. This marks an important milestone for QWIC as we strive to evolve into a leading brand in the market. This partnership contributes to our goals of taking control of our supply chain, improving quality, reducing lead times and accelerating the pace of product innovation. With VDL Groep's expertise in advanced manufacturing methods, we will be optimising our premium products to ensure efficient production. Having frames produced locally will make us more flexible, innovative and sustainable. This will then translate into better products for our customers."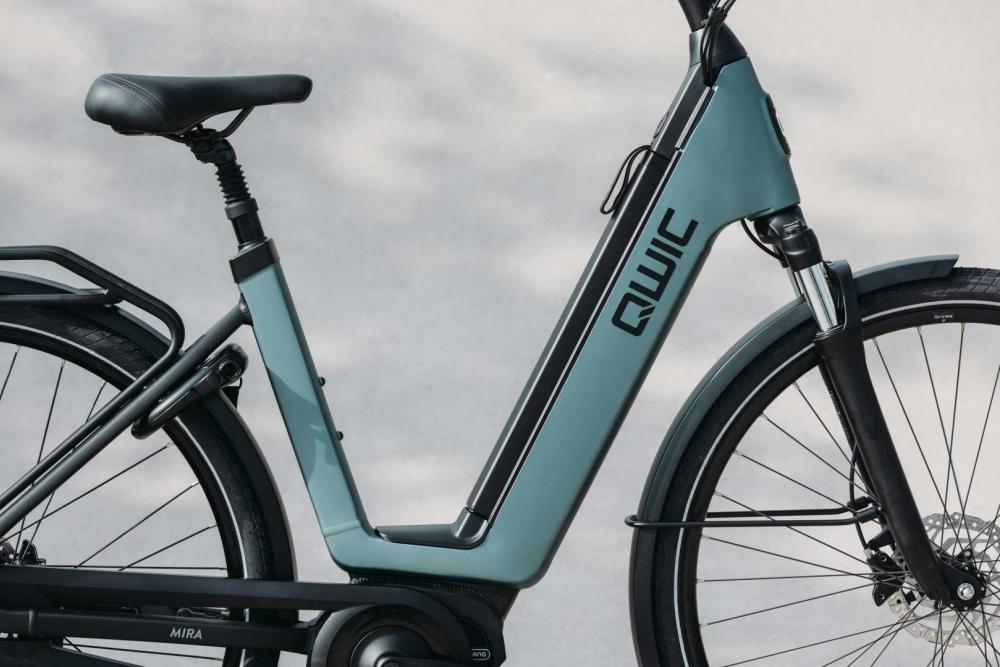 Photo caption: The bike frame of the QWIC Mira that will be produced first by VDL in the Netherlands.
'Competitive production'
President & CEO Willem van der Leegte: "Although the Netherlands is certainly the cycling country per excellence, the core component of the bicycle, the frame, is mainly produced outside of Europe. With VDL Bike Frame Technologies, we will be bringing this production back to our country as well, enabling our customers to reduce their carbon footprint by leaps and bounds. Having a fully automated production line will allow us to produce competitively. We are proud of this partnership with Dutch QWIC, a leading brand in the market."
Belgian Cycling Factory
Belgian Cycling Factory (BCF), the parent company of Belgian cycling brands Ridley and Eddy Merckx, also intends to source frames from VDL. A frame has been jointly developed by BCF designers and VDL engineers, initially for e-bikes, which is aimed at manufacturability in Europe. Over the next several months, VDL Fibertech Industries in Hapert (NL) will also be producing a carbon front fork for a new cyclocross bike model that BCF will be introducing in 2024. A prototype of this new fork has already been tested. The materials and production technologies used by VDL during the manufacturing process are also suitable for other bicycle parts such as saddles and stems.
Ambition
The production line in Breda currently has a capacity of 70,000 frames per year. It is the ambition of VDL Bike Frame Technologies to expand its modular production process, depending on market demand. Jason Koevoet: "In Europe alone, more than 22 million bicycles were sold in 2021, and this market is growing. The lion's share of the frames for all of those bicycles are still produced in Asia, while the bikes are then assembled in Europe."
About QWIC
QWIC is a fast-growing manufacturer of premium design e-bikes. The producer is active in the Netherlands, Belgium and Germany. QWIC's ambition is to reduce current mobility problems and environmental pollution by developing innovative electric bicycles. With a modern design and the use of the best components, QWIC takes its electric bicycles to a higher level every year. This is proven by the many e-bike awards that QWIC has recently won, such as the AD Bike Test 2021, the ElektroRad Test 2023 and internationally recognised design awards such as the iF DESIGN AWARDS 2020, the Red Dot Design Award 2020 and the German Design Award 2022.
www.qwic.eu
Back